With this tangram puzzle, you'll get smarter and more creative!
Use shapes to solve the problem!
For children and kids, this is a montessori/educational toy. The youngsters must follow the diagram on the card and recreate it using the exact same pattern, which depicts a real-life object. It's a game, a gift, a birthday present, or just a toy for your kids at home. Depending on how you play the game, it might be a puzzle to solve or a quiz to answer. Ideal for use at home, in the classroom, or in the nursery.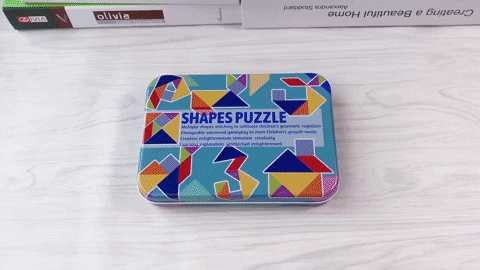 BENEFITS
Aids children's identification skills - These cards depict a variety of things, shapes, alphabets, numbers, colors, and so on. This allows youngsters to begin identifying those objects at a young age, giving them an advantage in pre-school or elementary school.
Developing problem-solving skills - While sorting the pieces, children will need to evaluate the game and ponder. This puzzle tests children's reasoning abilities.
Children's confidence boost- Use this chance to encourage your children if they did well with the problem, teaching them how to recognize and feel proud of themselves when they do well. Enhances their self-esteem and confidence!
Improve relationships - When parents assist their children and play together, it promotes dialogue or teamwork, which is essential for social development.
This game includes over 80 puzzles to answer, so you may keep playing it with your children for a long time. It gives your children enough playtime and value so they won't get tired of the same game over and over.






HOW DO YOU PLAY?
You can play in more than one way!
The first method is to simply have your children recreate what is displayed on the card. Give them any card and ask them to sort the pieces in the correct order.
The second method is to complete the problem yourself, then have your children identify the object from the stacks of cards.
You are free to make your own rules. Don't restrict yourself!

SPECIFICATION
Suitable Age - Above 3 years old
Material - Wood
Pieces thickness - 6.195mm
Packing List - 7 pcs tangram piece with cards in an iron box
-------------------------------------
GUARANTEED SAFE CHECKOUT
This section doesn't currently include any content. Add content to this section using the sidebar.